About OpenPBX.io
Stay Connected, Sound Professional
OpenPBX.io is a powerful unified communication platform, which supports IP phones over SIP Trunks on both the models, on-premise as well as on cloud.
Traditional communication systems are neither cost-effective nor flexible, but OpenPBX.io enables users to enjoy all the state of the art capabilities like multi-party audio conference, scalability as per the business need, option of connecting multiple sites, Integration with existing database for the desired screen pop-up and what not that too at an affordable price. Equipped with all UC features, OpenPBX.ioenables users to connect on just click of a button. OpenPBX.io effectively boosts productivity, reduces interrupted business communications, streamlines operations and improves customer services on a single user interface.
We intend to enable industries to connect and communicate easily to their customers and stakeholders across geographies, seamlessly.
7 Reasons to Use OpenPBX.io
Affordable Solution

– Save Like Never Before

Save like never before by switching from traditional PBX to OpenPBX.io
Open Platform

– Take control of your system & data

Not to worry about your freedom; take control of your data and system always.
Easy Deployment

– Install anytime anywhere effortlessly

Run OpenPBX.io on-premise or in the cloud as per your requirement and budget.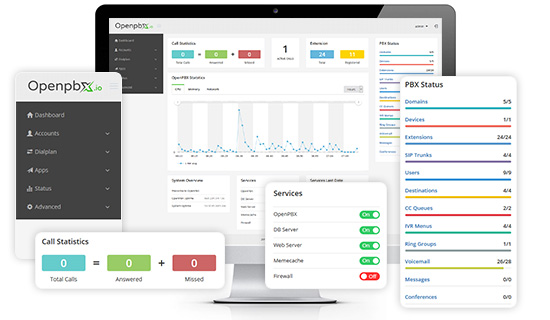 Easily Manageable

– Upgrades & security through the easy management interface

The key reason why OpenPBX.io is a great solution is easy deployment, as well as, effortless day-to-day management.
Mobility

– Work from anywhere and enhance productivity

The modern business need is – work anywhere and everywhere. This is where OpenPBX.io shines! It gives users the liberty to work wherever they want.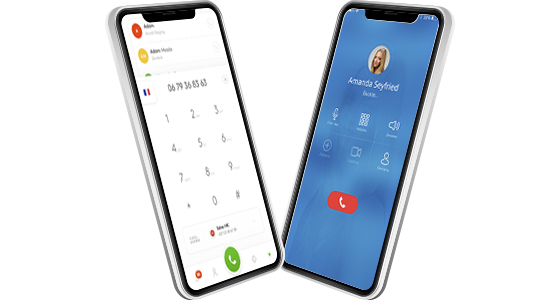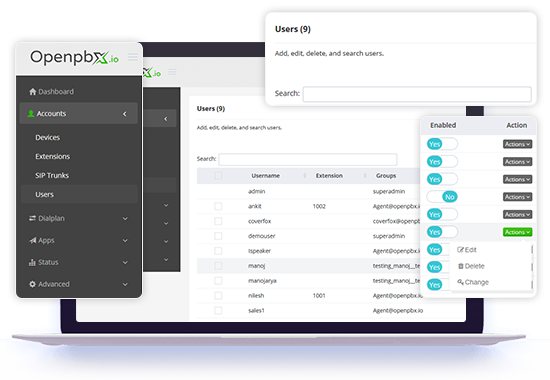 Proactive Customer Support

– Get anything and everything of a Call Center

In today's competitive market, missing even a single customer call can hamper business, therefore OpenPBX.io comes with advanced customer service features to ensure the best customer experience.
Tried & Tested

– Thousands of installations and trusted clients

OpenPBX.io is a tried and tested solution and thousands of clients, globally, are talking about this futuristic solution.